THE USS WISCONSIN CREST
USS WISCONSIN a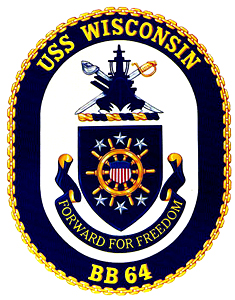 pplies the Wisconsin State Motto, "FORWARD" to her mission of preserving freedom and serving the interest of the United States hence "FORWARD FOR FREEDOM."
The warship silhouette is a battleship designed to combine the most powerful guns, large size and the strongest armor. She is capable to dealing and absorbing the most damage. The crossed cutlass and sword represents the combat readiness of the enlisted personnel and officers aboard WISCONSIN.
Dark blue and gold are the colors traditionally associated with the United States Navy. The ship's wheel represents navigation and leadership and reflects WISCONSIN'S global capabilities and seaworthiness. The smaller shield, from the United States Coat of Arms points out our national heritage and also appears on the Wisconsin State Flag. During World War II WISCONSIN played a vital part in the attainment of U.S. Naval power as second to none in the world. She earned 5 battle stars for her World War II service and one for Korea. This total is represented by the stars around the ship's wheel.
The state's motto dates back to the 1850's. State officials at that time felt their motto should be descriptive of where the state was headed, and where the people should look. In an effort to keep their motto clear and understood by all, they opted for a less traditional English version, since most mottoes were in Latin. The progressivism of the state at that time has remained intact throughout the years.
"Recommissioning Ceremony Book, October 22, 1988
Send E-mail to Dom Menta with questions or comments about this web-site. This website was established in 1998 and all contents are the property of the USS Wisconsin Association.  If you desire to use graphics or other info from this website please E-mail Dom Menta